Flat Springs for Unique Applications 

Flat springs are made of flat strip steel and are used in many applications and are ideally suited for applications where space is limited or where the spring can be used as part of mounting assembly. The flat spring design allows forming of specific features and profiles for a unique application and mounting location. Flat springs can be made in a variety of shape, sizes, designs and materials to work for many design applications. An experienced Lee Spring engineer knowledge in our fourslide, powerpress, and hand-forming tools can work with you from design concept through manufactured parts to assist with creating the optimal design of your custom flat spring.
Some common uses for flat springs include:
Electrical contacts
Leaf springs
Cantilever spring applications
Disc washers
Hold-downs
Clips
Shims
Plus many applications
Stock Flat Type Springs Available for Immediate Delivery
Lee Spring offers two types of stock flat springs, the standard Belleville disc flat spring and the flat wound Constant Force Spring. Stock Belleville disc springs are offered in 300 Series Stainless Steel and 51CrV4 spring steel (AISI 6150). The Lee Spring stock washer series are available in both imperial and metric sizes and fit common bolt sizes. The Lee Spring stock constant force springs are offered in 301 series Stainless Steel in imperial sizes. Search for a stock flat Disc Spring or flat wound Constant Force Spring which are both available for same day shipment.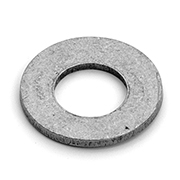 Belleville Washer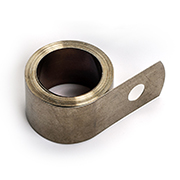 Constant Force
Custom Flat Springs Made to Your Specification
Flat springs come in a variety of shapes, sizes and materials. Commonly used materials for flat springs include carbon steel, stainless steel, brass, copper, phosphor bronze, and beryllium copper. Lee Spring offers advanced capabilities and a wide variety of options for your flat spring manufacturing needs such as; advance quality control systems, regulatory expertise including RoHS, REACH and DFARS CAD assisted product design, in-house prototype production services and global supply chain network.
The size ranges that we can work with are:
      - Strip Width: up to 3" / 76.20 mm
      - Strip Thickness: 0.003 to 0.125" / 0.08 mm – 3.18 mm

Customer Support and Manufacturing Capabilities
CAD assisted Product Design (SolidWorks)
Short Run and Prototype Production
CAD assisted Tooling Design (CADKEY), including Progressive Dies
In-House Tooling Production, including Wire EDM
Automatic Stamping Presses up to 45 Tons
In-House Secondary Operations including CNC Machining, Vibratory Deburring, Painting, Welding & Assembly
Process Validation Procedures including 1st Articles and PPAP's
Extensive Network of Approved Suppliers (Raw Materials, Special Processes and Production Components)

Simply request a flat spring quote today or contact a Lee Spring Engineer for design assistance or to answer any questions to help start your custom flat spring project. Lee Spring is ISO 2015:9001 certified, REACH and RoHS compliant and ITAR Registered.